1. Technical parameter

RW-20kw variable pitch Technical parameters

Wind rotor diameter (m)

9.2

Blade material and quantity

Fiber glass reinforced * 3

Rated power / max power (w)

20k/22k

Rated wind speed (m/s)

12

Rated rotating speed (rpm)

130

Working wind speed (m/s)

3-30

Startup wind speed (m/s)

2.5

Survived wind speed (m/s)

60

Working voltage (v)

DC240V(off grid) / DC400V(on grid)AC240

Battery voltage / capcity (v, ah)

12*20=240V/200Ah

Speed regulation method

Variable pitch regulation + electromagnet brake + active yawing

Stop method

Mechnical brake, aerodynamic brake

Generator type

Three phase, permanent magnet

Gear box

No, direct drive

Wind turbine weight (kg)

1200

Tower height / weight (m/kg)

25/4200

Max horizontal force (N)

33222

Wind turbine dimension D*L (m)

9.2*2.45

Noise level (dB)

<65

Packaging info for transportation

5PKGS,5760kg, 24CBM
2. Output power curve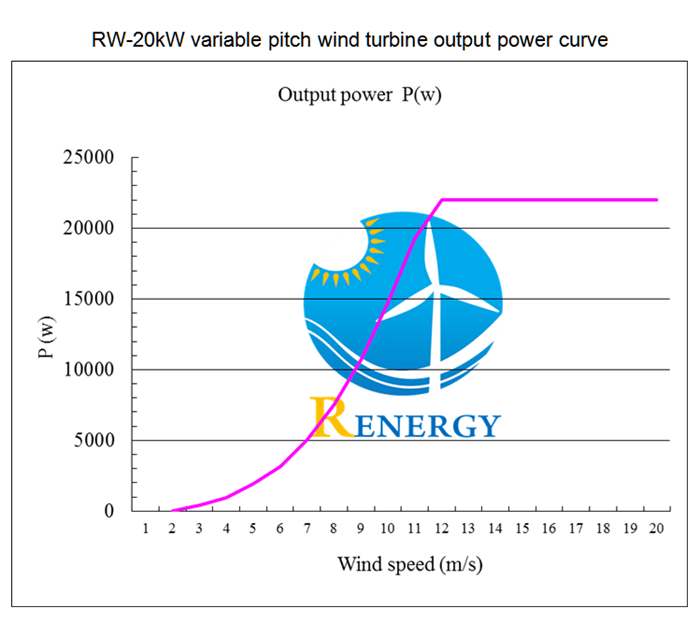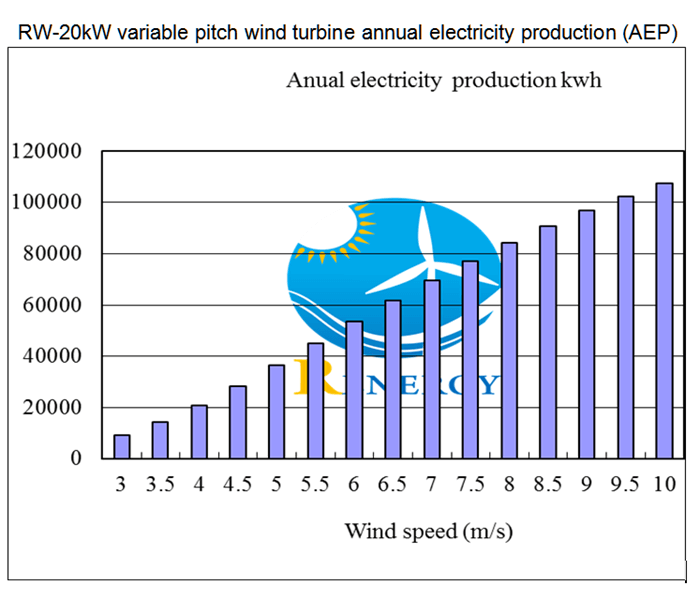 3. Features
Variable pitch, centrifugal mechanism
ABS system
Low start up wind speed
Optimum aerodynamic shape design: high efficiency, low noise.
4. Advanced technology
4A. variable pitch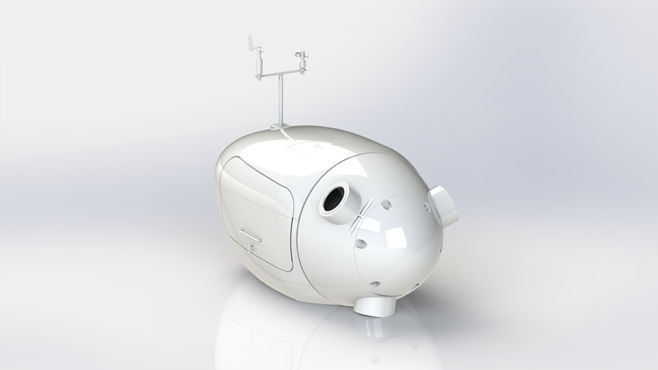 Variable pitch wind turbine is a patented product and pioneer in wind turbine industry. The self-developed centrifugal pitch controlled mechanism of Wind turbine adjusts blade pitch following wind rotor rotating speed, and keep wind turbine at rated rotating speed. The wind turbine has a stable output power and safe running and is maintenance free.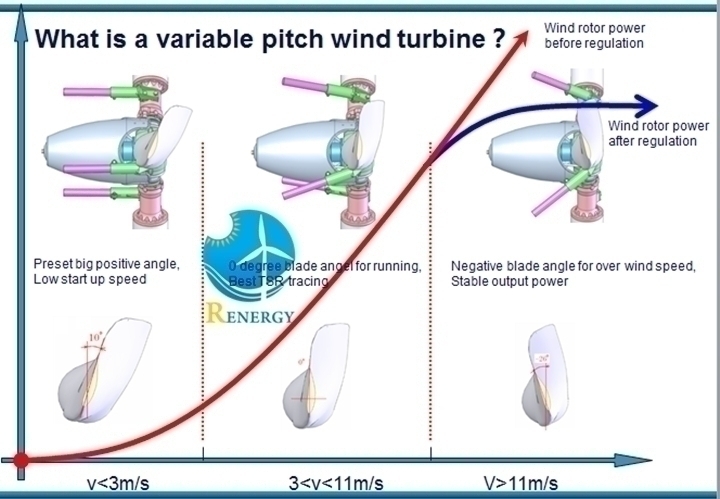 Benefits
• Mechanical design, safe and reliable
• Precise control:
Upper limit of RPM is controlled within 10rpm, precise management
• Multiple protection for key components, precise machining
4B. ABS – Aerodynamic brake system
• ABS system includes pitch regulation mechanism, active brake, controller, and other parts. System detect wind speed, voltage, current and other electrical parameters to determine wind turbine running or shut down.
• ABS system is the first time for small wind turbine to realize automatic brake function. RENERGY wind turbine became a significant of safety. Traditional brake including dump load (electronic brake), manual brake or non variable pitch brake.
• Since 2010, the first ABS system was designed. Now ABS system has been applied in variable pitch wind turbines widely, it became a last step safety protection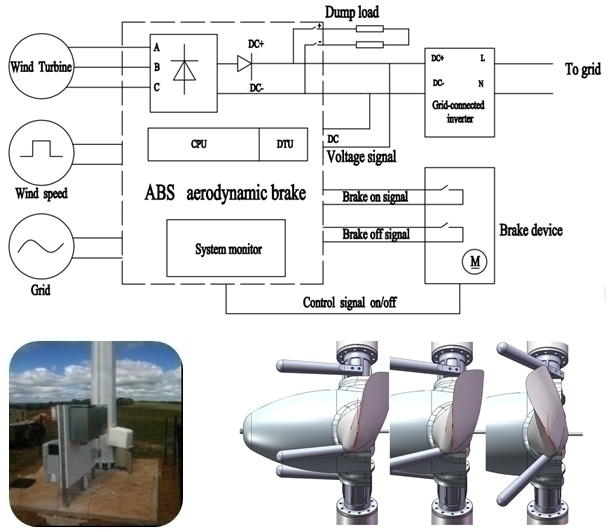 ABS – Aerodynamic brake system -- software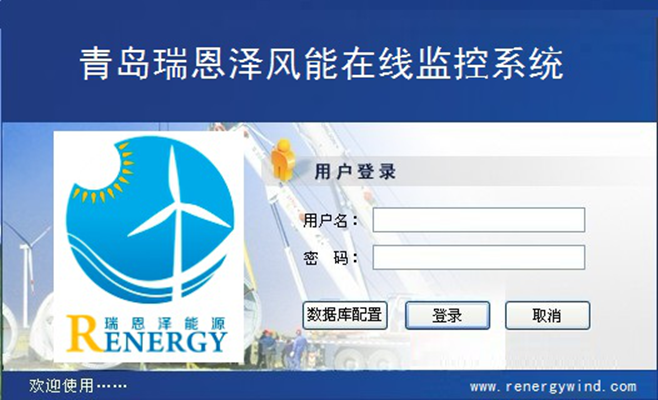 4C. Intelligent control
RENERGY intelligent control system is an innovated intelligent electrical system, adopting the best wind turbine control technology and combing variable pitch wind turbine characteristics. Main hardware are from best international supplier, have stable running capability and strong anti-interference ability. The software adopts redundancy control strategy to ensure system running safely and reliably. System has strong extendibility; it can match with all kinds of famous brand inverter and remote monitor module. It meets client's requirement of one-stop service.
Intelligent control benefits
•Intelligent protection
•Intelligent control benefits:
•Intelligent protection:
•15edundancy safety protection measurements:
a.Yawing brake protection for power failure, such as over voltage, over current, over rotating speed, over temperature, low pressure and so on;
b.sensor failure protection for voltage, current, rotating speed, wind speed, wind direction;
c.system failure emergency brake protection for yawing and pitch control failure;
d.protection for "inverter is out of net"; stop at over wind speed; restart function as low wind speed and so on.
•Remote monitoring
User can monitor the wind turbine system by internet or mobile in real time.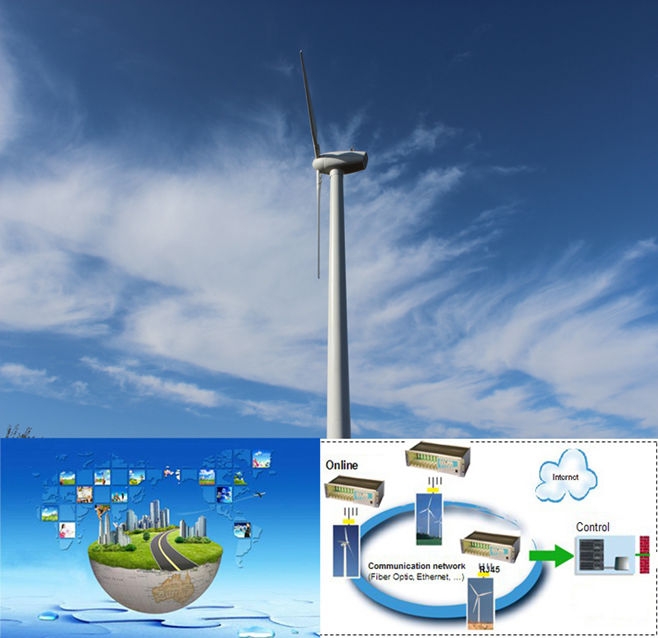 • Active yawing
a. Automatic wind direction founding
b. Automatic untwisting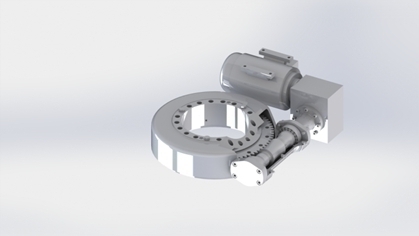 5. Application field

Micro grid power system,
On grid system,
Isolated system,
off grid system,
Wind and solar hybrid system,
GSM base station,
Telecom station,
Island and sight lighting system and so on.
6. Noise level
noise level report
1. Test conditions:
a. The measurement is made in 10 meters of height, which is a Danish law for noise measuring of windmills.
b. The mill has "soft" surfaces around it, like earth and grass.
c. The microphone is placed 17 meters behind the mill, seen from the direction of the wind, with a hard surface underneath it.
2. Test results:
| | | |
| --- | --- | --- |
| Distance (m) | dB(A) at 6m/s | dB(A) at 8m/s |
| 5 | 49.9 | 52.9 |
| 10 | 48.7 | 51.7 |
| 15 | 47.3 | 50.3 |
| 20 | 45.8 | 48.8 |
| 25 | 44.5 | 47.5 |
| 30 | 43.2 | 46.2 |
| 35 | 42.1 | 45.1 |
| 40 | 41.1 | 44.1 |
| 45 | 40.1 | 43.1 |
| 50 | 39.3 | 42.2 |
| 60 | 37.7 | 40.7 |
| 70 | 36.4 | 39.4 |
| 80 | 35.3 | 38.2 |
| 90 | 34.2 | 37.1 |
| 100 | 33.3 | 36.2 |
Accuracy: +-2dB
comparisons:
Washing machine spinning in kitchen - 76dB(A)
Larder fridge in kitchen - 42.0dB(A)
Quiet library room - 40dB(A)
Quiet bedroom at night - 35dB(A)
7. Packaging information
RW-20kW wind turbine PACKING LIST

CARTON NO.

PACKING

Name

Quantity

N.W

(kg)

G.W

(kg)

MEASUREMENT(cbm)

1

Wooden box

RW-20KW wind turbine

1 set

1300

1350

2.47*1*1.35=3.33

Foundation bolt

12 pieces

Foundation plate

2 pieces

Cable wire

1 pieces

Brake

1 piece

2

Wooden box

Blade

1set

180

210

4.33*0.55*0.68=1.62

3

Softpackage

25 tower top section

1 section

840

840

0.5*0.5*8=2

4

Softpackage

25 tower middle section

1 section

1470

1470

0.66*0.66*8=3.48

5

Softpackage

25 tower lower section

1 section

1890

1890

1.25*1.25*8.5=13.28


















Total dimension: 5PKGS, 5760kg, 23.71CBM